There are so many kinds of tyre wrapping machines are used in modern. Such as Truck Tyre Wrapping Machine, Truck Tyre Wrapping Machines, Trailer Tyre Wrapping Machine, Light Truck Tyre Wrapping Machine, Passenger Car Tyre Wrapping Machine, Tyre Machine, Tyre Equipment, Tyre Packaging Machine, Tyre Wrapping Machine.  
Different size of tyres, they can be wrapped with different tyre wrapping machine. For example, if the tyre width is 200mm, tyre wrapping machine GS200 is suitable for wrapping; if it is 300mm, tyre wrapping machine GS300 is better. Machine structure of GS200 & GS300 is a little different.
Here i will tell you how to recognize the tyre size in general case. Now I take this tyre 195/55 R15 85V for example. 
195——tyre width 195mm
55——tyre aspect ratio (AR), it means the ratio of tyre section height (H) and section width (W) is 55%
R——radial tyre mode
15——wheel rim ID 15''
85——load index 85
V—speed rating is 240km/hour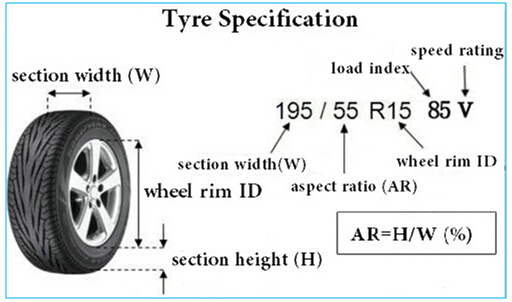 For more tyre wrapping machine, welcome to contact us. We will offer the best solution for tyre package to meet your packing requirement.